version 2.11.0~
What you can do with editing audio files
Crop audio file

Stereo and monaural changes

Noise cancellation

Change volume

Changing the bit rate and sample rate
Restriction
This feature is only available once every 24 hours.
To cancel the restriction, in-app purchase is required.
Edit
Tap the audio file and tap "Edit" when the menu is displayed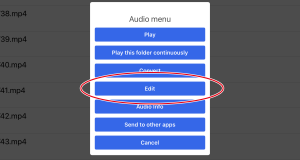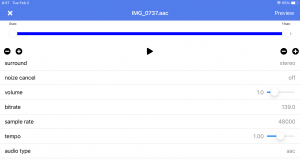 Select the slider to use when cutting out part of the audio file and the range you want to cut out

Button for fine adjustment of the cropping range and playback button for playing back the selected range
[Icon name = "plus-circle" prefix = "fas"] on the left adjusts the start point,

Surround
You can switch between mono and stereo
Noise cancellation
Removes noise from audio files.
volume
Adjust the volume
bitrate
You can change the bit rate
Switch between 64, 128, 256, 320 per tap
samplerate
You can change the sample rate
Switch between 16000, 32000, 44100, 48000 per tap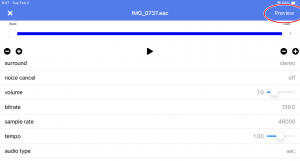 Conversion is performed in the set state.
After the conversion is complete, a preview window will open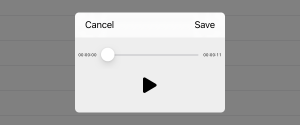 Tap the play button to confirm that editing is possible, and tap "Save" to save.
Save file name
The file name is newly saved with a file name such as "-1" in the original file name.
In case of "sample.mp3", it will be "sample-1.mp3".
If "sample-1.mp3" already exists, the number given at the end will increase like "sample-2.mp3"